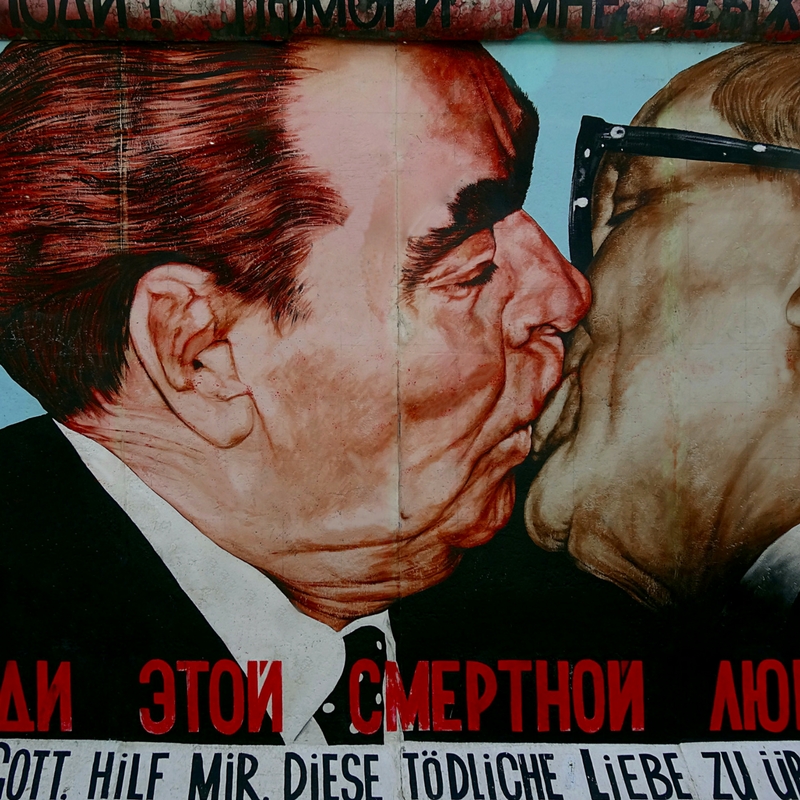 In January 2016, I ventured to Berlin with my little sister for a cold conclusion to the end of my New Years tour. We spent our last couple of days in Europe eating pierogies and unsuccessfully eluding smokers.  
"You want one?" says who I'm presuming to be an James Bond villain in disguise.
I examine the tiny cup, which appears to be filled with Listerine.
"Are you going to tell me what it is?" I ask the grungy, mustached man.
He and his bohemian, dreadlocked friend chuckle like old timey gangsters. Ignoring them, I take it like a shot, then nod to my sister. Erica does the same.
"Welcome," he says as I hand him a crumbled up $5 bill.
We make our way into the secluded, dimly lit room, quickly find overstuffed arm chairs to sit in. Around us are high-waisted jeans, burgundy colored lips, and clouds of cigarette smoke.
It's a Monday night in Berlin, Germany.
I had tasked my sassy travel companion to find something to do on our last night in town. I sat back, probably leisurely browsing Reddit as she scoured Google Maps for transportation to an open mic night for local comedians.
It was cheap, and not too far away.
"Ok, I've got it." she said confidently.
Bundled up in our oversized coats, slightly damp gloves and itchy scarves, which we had not needed to use since we were in Iceland, we departed on a north bound train.
Berlin isn't difficult to get around in, but we had struggled in Paris. It seemed every route had an exception; the train only ran on Tuesdays, skipped the stop we needed on Wednesdays, or arrived ten minutes earlier on Wednesdays. We couldn't quite crack it, so we spent a significant amount of time trying to find our way.
On one occasion, our sister by being our former foreign exchange student waited for us for nearly 45 minutes in a dark parking lot in Antony, France.
But in Berlin, we cracked it. Sort of. As we sat on the train, I looked out the window with furrowed brow. Like every perfect cliche, I pondered as we zoomed past the graffitied buildings, is this the right way?
I distracted myself by mentally recapping our past couple of days. Berlin provided rest to my tired wallet: where I could pop out and grab a quick kabob or bottle of slightly shitty local beer for less than a few euros. This time of year, (off-season), the hostels were cheap and accessible.
Though this time around, my father's contribution of free hotel points landed us in a 4-star hotel.
"We're here to check-in," we had told the surprisingly understanding front desk attendant, who offered us fresh hot cider, even though we both had beer cans shoved in our pockets.
We arrived at the stop Erica identified as our destination. As we walked through slightly illuminated city blocks, as I slowly made a realization: I had been to this neighborhood before.
Three years ago, I had wandered down the same streets. Instead of the short, chopping cut I wore now, my hair was mousey brown, long and tangled. My uneven bangs blew into my eyes as I tried to find our way back to our trendy hostel.
"It's this way, and then we turn left for about three blocks," I relayed to my travel partner and my ex-boyfriend.
Like this visit, it was our last stop before returning back to the states. I remember the streets were wet and cold for those couple of days, appearing like a noir film. After three months abroad, we were broke, relying on the vast quantities of strange foreign fast food and entertainment to occupy our time.
Then there was the awkward, palpable knowing that our whirlwind, six month relationship was over. We had arrived in Iceland bright-eyed and fixated on our shiny new love, and we were leaving with invisible needles of bitterness and impatience stuck in us an old, discarded pin cushion.
I had only casually dated since we broke up, and was now, entertaining re-entering a relationship with my ex-travel companion. We had exchanged a few emails since I was abroad, the time difference causing awkward lapses in an already strained conversation about our future.
"Here it is," Erica gestured, breaking me out of my haze. She motions towards a heavy, wooden door.
The hostel I had looked for those years prior was right next door. Same as tonight, my ex and I had also considered going to what I knew now, was the very same comedy show.
I smile at the irony, then enter.
The room the show was held in was filled with the smell of smoke and pizza covered with strange vegetables, a free snack provided by the coordinators. Erica and I made away with 3-4 pieces, since we're scrubby scavengers. We snorted-laughed at the burly, quick-witted German men, at their inappropriate and occasionally offensive and incredibly self-deprecating jokes.
WWII was mentioned multiple times.
We departed the next morning for the airport, chattering about how we were in West Berlin the day David Bowie died. I got on my laptop for the last time before our flight. The scenes of this present trip to Germany, and the time before, cobbled together like the strange and slightly offensive quips from the night before.
As our flight departed to Oslo, I watched the snow capped plains disappear beneath us, and again I wondered if I was going the right way.