Is it over yet?
Branches snap.
Nope. Now?
My sister's bike, along with it's passenger, crashes into the large mass of twigs and sticks.
It's over now.
I've landed in some brush off the biking trail. I assess possible damage and quickly determine that myself, and the borrowed bike are fine. My knees shake a little as I remount, struggling to push past a cluster of roots and rocks.
I haven't been riding very long. In fact, it's something I've only revisited in the past month. I prefer it to running for an obvious, yet super cheesy reason. I feel like I'm traveling somewhere whilst exercising.
Being on a trail is difficult. I know that after two miles in the heat, I'm at my least attractive, my face beet red, my angry Tinkerbell hair poking up from under my helmet. Dirt is caked on my knees from my fall, with light, faint-pink lines up and down, promising a scratch or two.
Plus, I'm starving.
I brake at the upcoming clearing, ripping off the helmet. I gulp the water that I forgot the last time I was riding, and rustle around in my string backpack until I find what I'm looking for. A Wild Açaí Fruit Strip.
As many organic or all natural products that are out there, it's actually pretty hard to find a portable healthy snack. I've tried a few things to bring along on hikes, but my only real options are fruit or a granola bars. I'm not crazy about either of those, preferring something that won't excrete juice or leave crumbs all over the place if and when I fall off my bike.
So Evan of Peaceful Fruits sent me a few of the fruit strips to check out, and I was really excited to do it. I don't litter my blog with a lot of posts with free stuff, and when I choose to, they're products I specifically solicit because they check off my boxes. Healthy and travel-sized are definitely two of those boxes.
The fruit strips are super compact, making them easy to bring along on a hike or a ride. I rip into the apple flavored one, cramming the leathery strip into my mouth as I read the back of the package again. Compostable packaging, 100% fruit (mostly açaí), vegan and gluten free.
Plus, it's actually really good. Just the right amount of sweetness so I don't feel sick or nauseated after eating one. I don't like super sugary treats, I never even really eaten the sinful version of the Wild Açaí Fruit Strips growing up. You know, the dreaded super sugary fruit strips that parents stuff in their kids lunch boxes.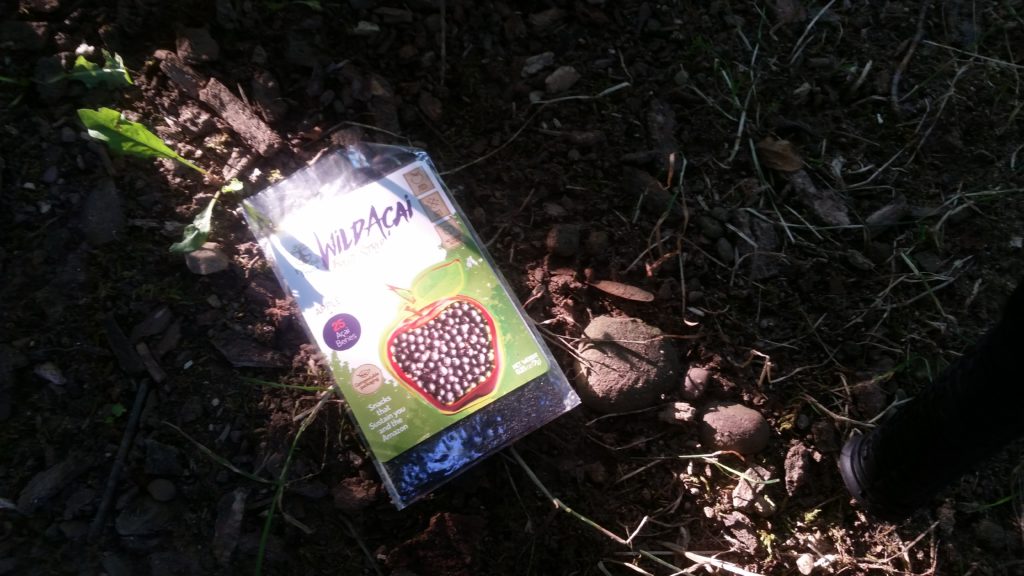 And as I'm sitting on the floor of an Upstate New York forest, finishing the strip and chugging my water like my life depends on it, somewhere in the Amazon rainforest, someone is cultivating the same kind of açaí berries that Evan Delhanty, founder of Peaceful Fruits, selects for his products. This healthy little treat is pushing me closer to a goal, while an Amazonian mother, or son, or daughter, or father, is picking açaí for these treats to help support their family without sacrificing their culture to do so.
Read more about Evan's awesome experience in the Peace Corps and motivation for Peaceful Fruits on their Kickstarter project. Peaceful Fruits are currently working on raising 10k to bring their delicious little strips of heaven on the road to Expo East, a super important natural food trade-show. I got absolutely no pressure to donate, not pressuring you either, but they're doing some majorly epic stuff over at PF and you should definitely check it out.
ALSO…in addition to helping local South Americans, the product headquarters in Ohio employs people with disabilities. So, yeah people, this is do-good, feel good stuff here. Thinking about that during my ride completely distracted me from the fact that I was sweating in places I never knew I could sweat.
That being said, I survived the ride home, immediately scarfing down a pineapple flavored strip upon my triumphant return.
---
Two weeks ago, Evan Delahanty of Peaceful Fruits appeared on a taping of ABC's Shark Tank in hopes of getting the Sharks to invest in the business. Check out what went down.
---
The fine print: I was provided with free products from Peaceful Fruits in exchange for a review on my blog. All opinions, thoughts, and shame for previously mentioned trail stumble are mine.