It's a Saturday in Hollywood. And it's sweltering out.
Roxanna has just dropped me off at what I think is PodShare – a modern, hostel snuggled into a seemingly untouched alley off Hollywood Blvd. Instead, I find a condominium building. I quickly realize my mistake and head a half a block up.
The hostel, which seems more like a very large and spacious apartment, is quiet. The Pods are cluttered with shoes, extra articles of clothing, and various toiletries, likely cast aside as guests rushed to get out to explore Hollywood.
I'm directed to my Pod, and instructed to do three things:
a) Write my name on the chalkboard over my bed.
b) Read the quote that the previous guest left for me.
c) Erase that quote, and write my own when I leave.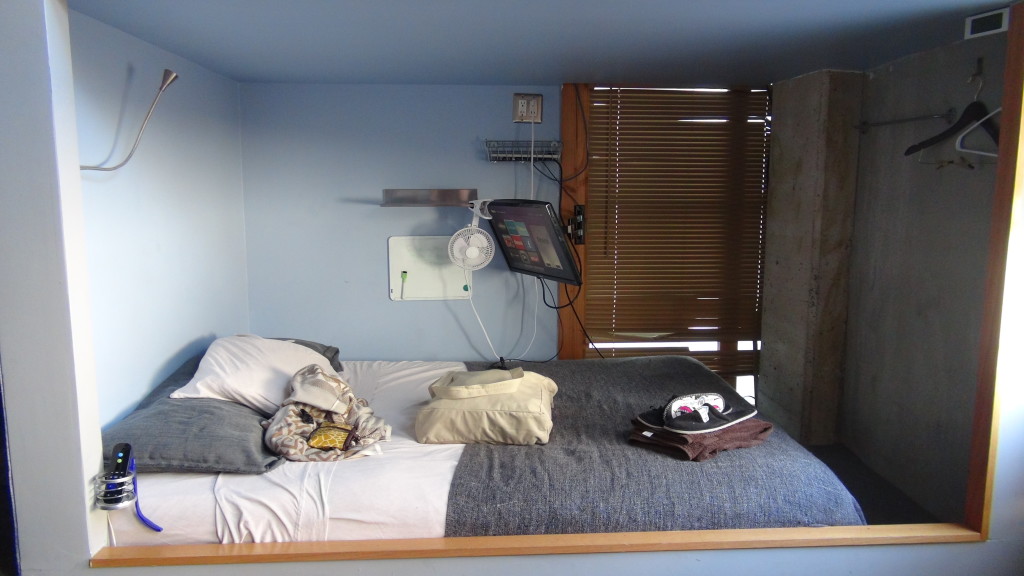 The quote thing excited (and perplexed me, a little). Whoever had my Pod before me, left me this food for thought: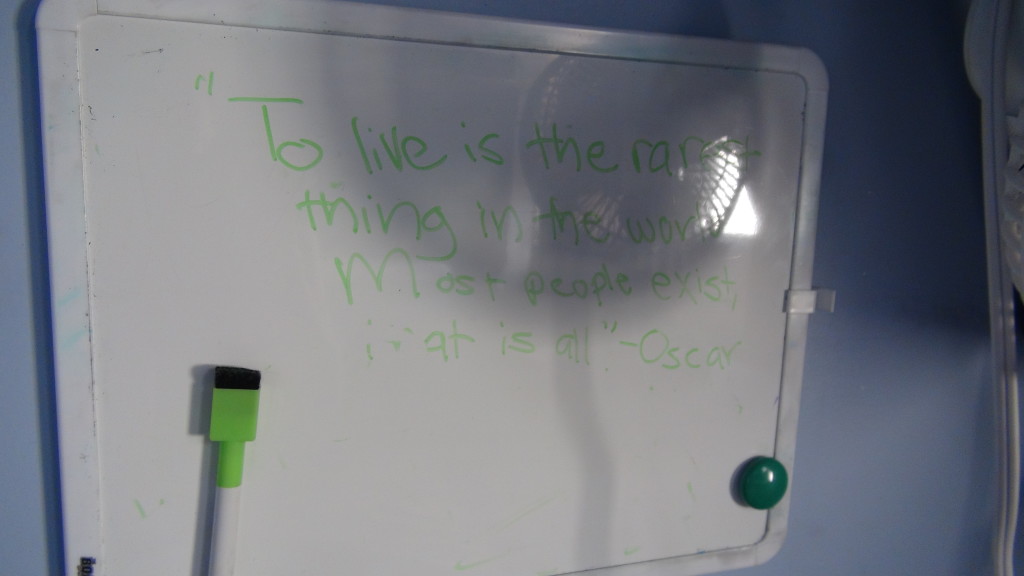 So, my decision to stay at PodShare for a night was spontaneous. Yet, once I laid eyes on a modern, highly rated hostel in Los Angeles, I knew I had to check it out. It didn't hurt that the owner and founder of PodShare, an ambitious, spirited entrepreneur, Elvina Beck, agreed to stop by and have a chat for the blog.
The quiet I mentioned earlier doesn't last for too long, as three loud, friendly Australians appear. We chat for a few minutes about PodShare, and one asks me if he can call me "Melissa's 100 dot com" instead of Missy. He proceeds to call me Millie for the next half hour or so.
I'm delighted by their accents (obviously), and how they call candy "lollies". We start talking about accents, and I ask them their thoughts on American accents. They seem indecisive, and then one of them bursts out with one of the best Jersey Shore impressions I've ever heard.
As we chatter on, I realize how it easy it was to start talking to them. Then I notice… it's nearly impossible not to be engaged in conversation at PodShare. The pods seem designed to encourage you to be social, as there's no curtains. They tell me about their trip to the States, places they had been in California thus far, and I briefly explain why I'm there.
Before too long, Elvina arrives.
"Sorry I'm late—" she immediately apologizes, explaining that she was at a shoot with Avril Lavigne. Aside from being the owner of PodShare, Elvina is also a Camera Operator for Zuckerberg Media.
After chatting with her for about 20 minutes, it's apparent that she wears a lot of hats, but by far, PodShare is her most vibrant. During our conversation, she discusses the idea behind PodShare, her adventures so far, and her advice to other aspiring entrepreneurs, such as myself.
Here are the highlights of our chat, which they also filmed for the PodShare website.
10 Things About Podshare
(and the mastermind behind it)
 #1. PodShare isn't just about a place to sleep – it's about social travel.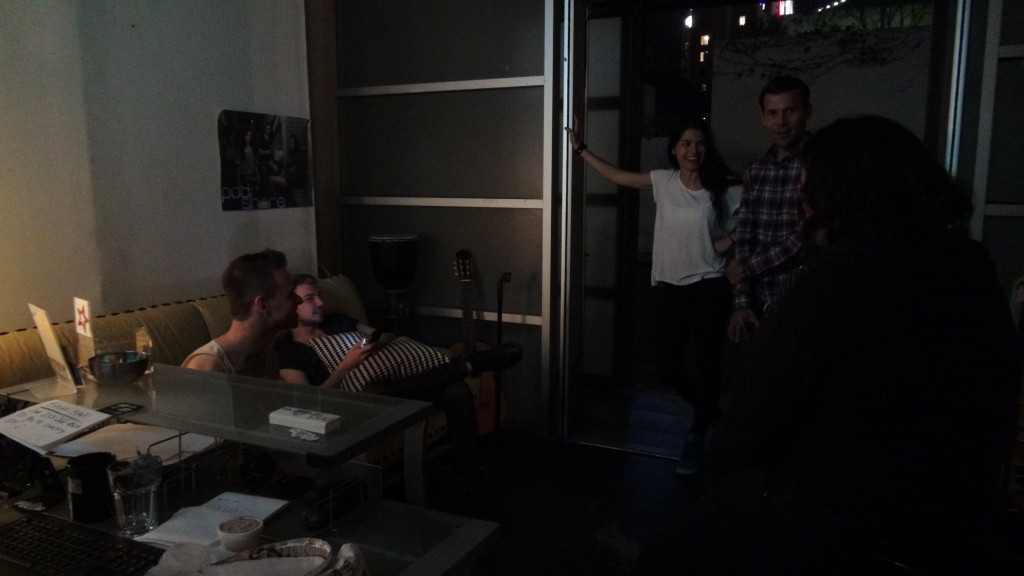 An avid traveler, Elvina got the inspiration for PodShare when she recognized the absence of safe, affordable and social travel in the U.S.. Although hostels can be found in cities, she makes the point that "hostel is an international word. You don't go to Chicago and ask, 'where's the hostel?"
Although companies like Airbnb have provided alternatives to pricier hotels and motels, PodShare goes beyond it. It fills the void that even sites like Airbnb haven't been able to fill – a centrally located, clean, place to stay that encourages you to meet your fellow travelers.
As I mentioned – no curtains at PodShare. No fourth wall, no way of shutting other people out. Podshare hits that "niche for someone that's not private, but wants to come meet other people," says Elvina.
#2.  Couch surfers helped build PodShare.
Elvina believes in the power of bartering – a favor for a favor. When PodShare was being built, a lot of couch surfers contributed labor.
"People picked up hammers in exchange for lodging," admits Elvina. She's also sure to include that skilled contractors did the trickier stuff, and her family, especially her father, helped a lot.
"There were a lot of little soldiers," she says, that helped build PodShare.
#3. More PodShares are coming.
Besides the possibility of relocating their Hollywood PodShare,  Elvina reveals that they're looking to expand in 2014. She names San Francisco and Austin as the next two PodShare locations. A task, she admits, that's not easy. Hostels aren't residential, and need to be commercially zoned. Finding the right combination of property features – location, size, amenities, cost – is much harder than it may seem.
#4.  Elvina's two favorite travel spots (and preferred method of transportation) are surprising.
When asked about her favorite travel spots, Elvina immediately replies with "Barcelona". She adds that she also loved Austria, since you can rent a bike in Austria and "see the entire city on a bike."
She also identifies L.A. as not being very bike friendly, though PodShare has bikes you can borrow for free. "More cities need bike shares," she says.
#5. One of the things that motivates Elvina is kind of shocking.
Elvina tells me that nine (NINE) other people have gotten PodShare tats, something that she calls, "gnarly".
"Nine people have gotten our logo tattooed on their bodies. If that doesn't motivate you to keep going, I don't know what will. You're kind of indebted to these people."
Besides having a  "if i don't do it, it won't get done" mindset, Elvina has a lot of admiration and respect for all of the people supporting PodShare (especially the tattooed).
"Imagine if you build a brand that dies a year later. These people believe in you, and the 2000 other people that have stayed here also believe in us."
For those reasons, Elvina reaffirms my belief that failure isn't an option. "I don't want to say that I work from fear, but I definitely work from a place of like, not fear of failure, but there is no choice. It has to happen, it's do or die."
#6. PodShare isn't just about travel – it's about supporting fellow female entrepreneurs.
"I'm a total feminist, not in a radical burn your bra kind of way, but in a financial support kind of way," Elvina reveals. She identifies PodShare, as " the way for me to help fellow females in the future."
With her success in PodShare, Elvina says she can provide advice and support for girls looking to make their own dreams happen. "I've done it, you can actually listen to me, here's the money I made from it, why don't I re-invest it back into you?"
"I want to be a seed funder for female owned businesses," she adds.
#7. Elvina's advice for those female entrepreneurs? Stop looking in the mirror.
When I asked Elvina about the advice she'd give other female entrepreneurs, her answer surprised me.
"Honestly, I would say don't wear makeup and don't spend time looking at yourself in the mirror. Instead, use that time," she advises.
She elaborated on that theory, pointing out that the most important thing is focus.
"I'm not a reader, I won't say go read a book. That's not advice I would give," says Elvina. "I don't read, I read Fast Company and blogs. I can't say go educate yourself and learn from others. Refocus yourself, figure out what you want to do."
#8. If you stay at PodShare, you get a number.
I'm Podestrian #1863. What does that mean?
When I left Podshare, I left behind my quote (more on that later), and in exchange, I got a number, a picture taken and a blog post. A few days after my visit, I got an email from the PodShare team with a link to their blog. There I was!
They wrote a lot of really fantastic stuff about me, but my favorite was probably: "Her life changed when she took a trip to Iceland, and the rest is history. Wanderlust and love of adventure have set in, and she's hooked on the nomadic, creative lifestyle."
Every single Podestrian shows up on the PodShare blog. Look, here's proof – two of my new Australian friends: Devin, who I advised not to ever visit Boston, and Bryan, the one who called me Millie and drew wangs on all the chalkboards.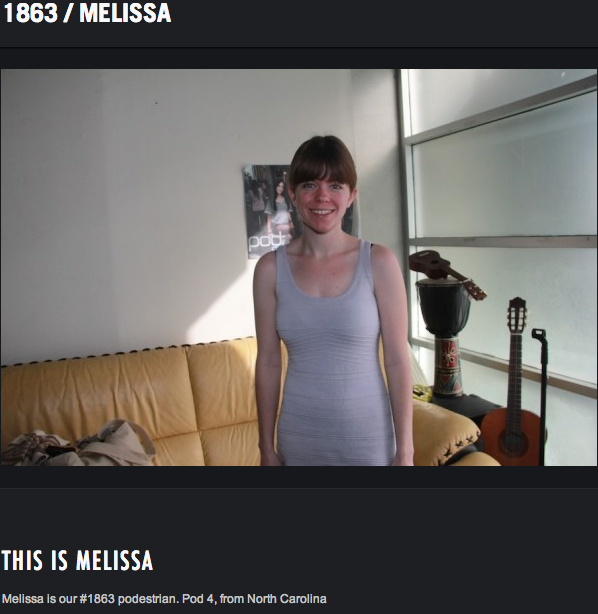 #9. If you want to be successful, get out into the world and sell your product.
Two ways Elvina advises to promote yourself are to attend conferences and do lots of networking.
"You have to go out there and meet other people, and talk about your brand," she encourages, "Listen to other people, how they built their brands."
Elvina elaborates on this point and talks about how she recently met up with the owner of Joe's Jeans – not for fashion tips, but just for expertise. She sees his billboards everywhere in L.A., and didn't hesitate to ask, "hey, how much are those billboards costing you?"
"We're all selling a product," Elvina says.
#10. Elvina and I both had awful flight experiences that ended with epiphanies. 
Besides being self-professed workaholics, Elvina and I had another thing in common. Totally scary flights that ended with epiphanies. 
Elvina's experience included being on a plane with a lot of turbulence, and asking her boyfriend, "Babe, if I died, would you continue PodShare?" 
She realized that when it comes to our aspirations, whether it be a travel blog or a startup, "No one is going to love that startup as much as you." 
My time as Melissa from Pod #4, was short, but meaningful. Traveling alone is a very intimidating thing, especially for a female. PodShare welcomed me into it's family, provided me with a great experience, and sent me on my way, back into the world.
Of course, before I left,  I was sure to leave something behind. I hope the next person in Pod #4 got meaning from  it: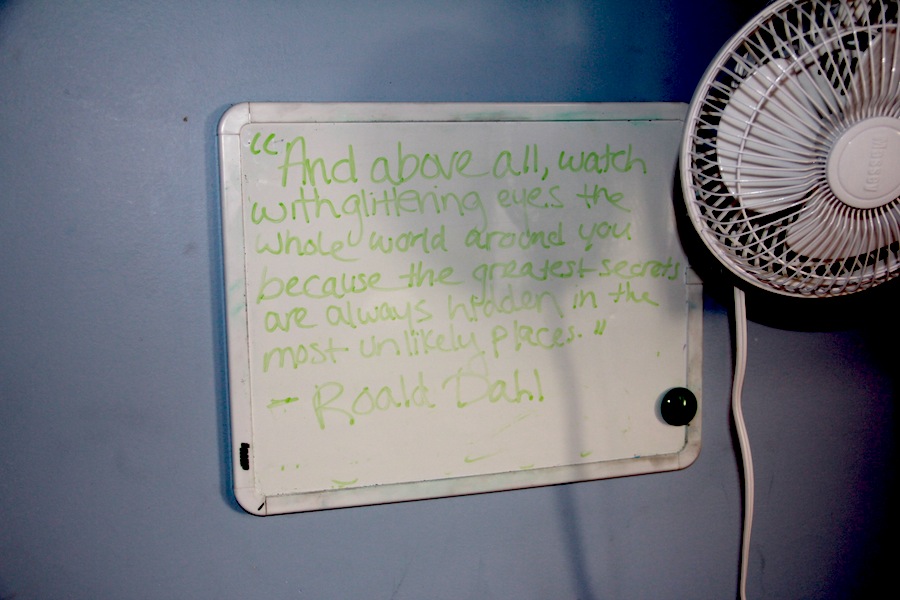 "And above all, watch with glittering eyes the whole world around you, because the greatest secrets are always hidden in the most unlikely places." -Roald Dahl