This story is one of my favorites, and the inspiration for my kick ass mountain tattoo.
I've been asked many times what the tattoo symbolizes. I always have the same response.
A grin, then a tale about exhaustion, two Icelandic mountain men, and a little bit of drifty magic.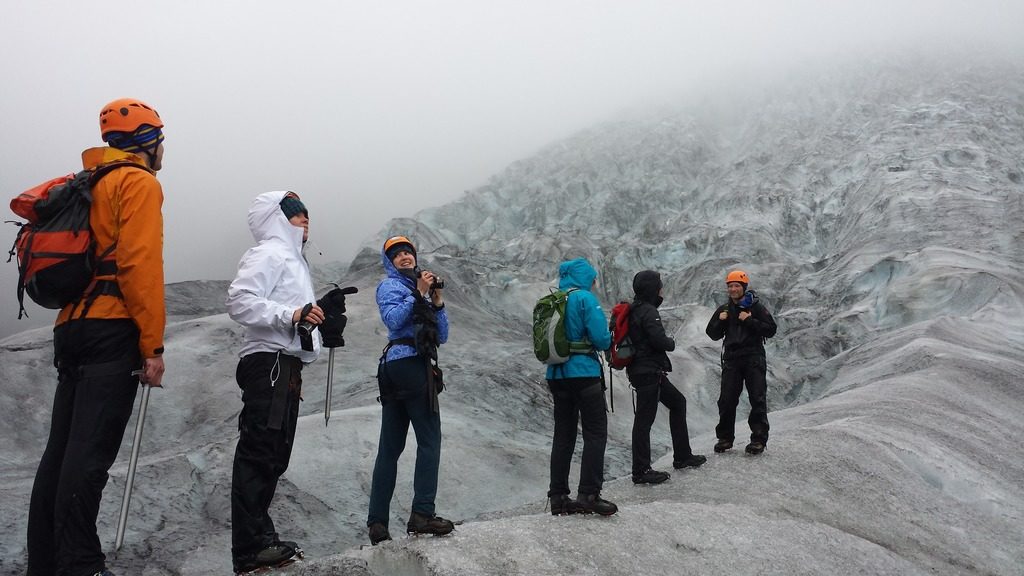 Something you may or may not know, is that hitch-hiking is widely accepted in Iceland. No jokes, people. I didn't hitch with my little sister in January, but people do it all the time. Well, mainly broke tourists looking for free rides.
During my trip around the Ring Road in 2013, my ex and I hitched. We ended up in a sleepy, barely there town called Egilsstaðir, around 8 PM local time. We immediately tried to get a ride anywhere else.
We were tired, and agreed that if we didn't get a ride, we'd just camp. Ideally, we wanted to get about 2.5 hours away to Skaftafell, where I had a glacier tour scheduled within 48 hours.
In regular time, two days might seem like a lot. But hitchhiking time is different. On some days, we waited hours and hours for a car to pass, let alone give us a ride.
We'd sit and talk, or maybe read. Take pictures. Wander around. During that leg of the trip, however, we were tense.
We were fighting again.
I've talked about this in reference to my first big abroad trip. Mike and I hadn't been dating that long when we decided to leave the country. I don't regret that we did, and would probably make the same choice again.
It was just the constant come and go. The adventure was awesome, but a lot of pressure on a new relationship. It was during the stage of a relationship where you're beyond the lovely dovey crap, and seeing all of the imperfections for the first time.
So it was that – on a worldwide tour.
I don't remember what was stuck up our asses that day, as people typically don't years later. He stood at one side of the road, with a sign going to Hofn, a town near Skaftafell. I was on the other side, with a grim expression rivaling a Heathers era Winona Ryder.
My sign read Akureyri, the town we had come from. We'd have to backtrack, but Akureyri had a bus that went directly to Skaftafell. We'd have to pay in currency beyond just coolness and karma, so though not ideal, we'd do it to arrive on time.
It was freezing. We were starving. I recall looking across the road, at this sleepy, somewhat grumpy man I had found myself traveling with, and wondering how I got there. Figuratively and literally.
"Please," I remember half praying, half pleading.
"I just want a cold beer and a warm bed."
The words had no sooner crossed my mind when, across the street, I saw a Jeep pull up. Mike ran over, then after a moment, called me over too. The drivers were going south, and agreed to drop us off in Hofn.
We hopped in, and started the couple hour drive.
They were rugged, handsome Icelandic men. I guessed they were a bit older than us. As we started to chat, they asked us why we'd want to go to the tiny, remote town.
"We're actually just trying to get to the glacier," I explained. "We have a tour scheduled there on Friday."
I explained how we thought we'd have better luck hitching directly there from Hofn, since it was the closest town.
"Which tour?" The driver asked, expectedly navigating around the winding mountain road.
"Um, Blue Ice. With Arctic Adventures." I replied.
The driver laughed, in the way that only burly men can seem to. In perfect union, they exclaimed:
"WE'RE YOUR GUIDES!"
It was their tour.
Hörður and Jon invited us to crash at their base camp, gave us cold beers, as well as a warm bed to sleep in.  We hung out with them for a day or so before finally getting up on the glacier.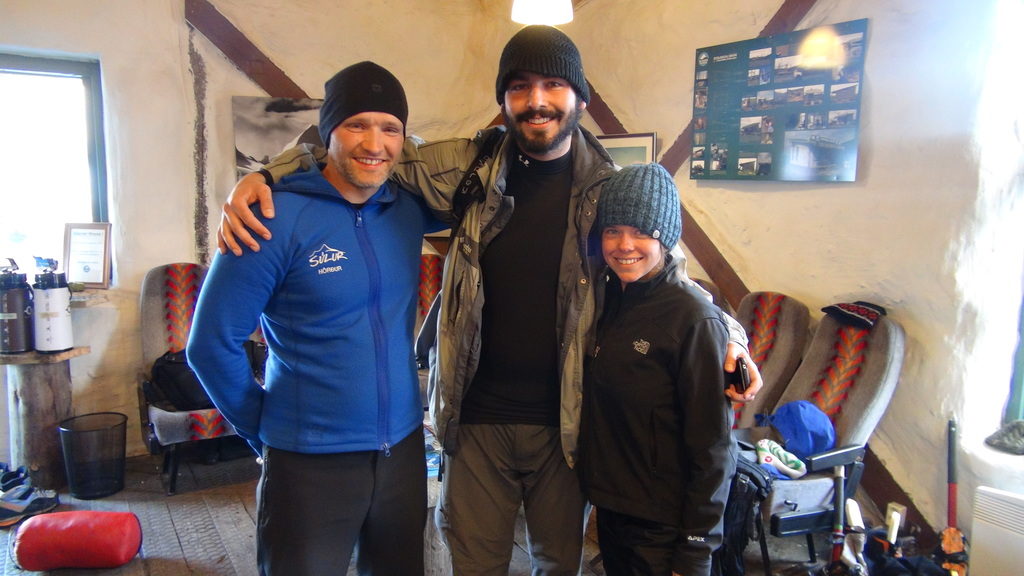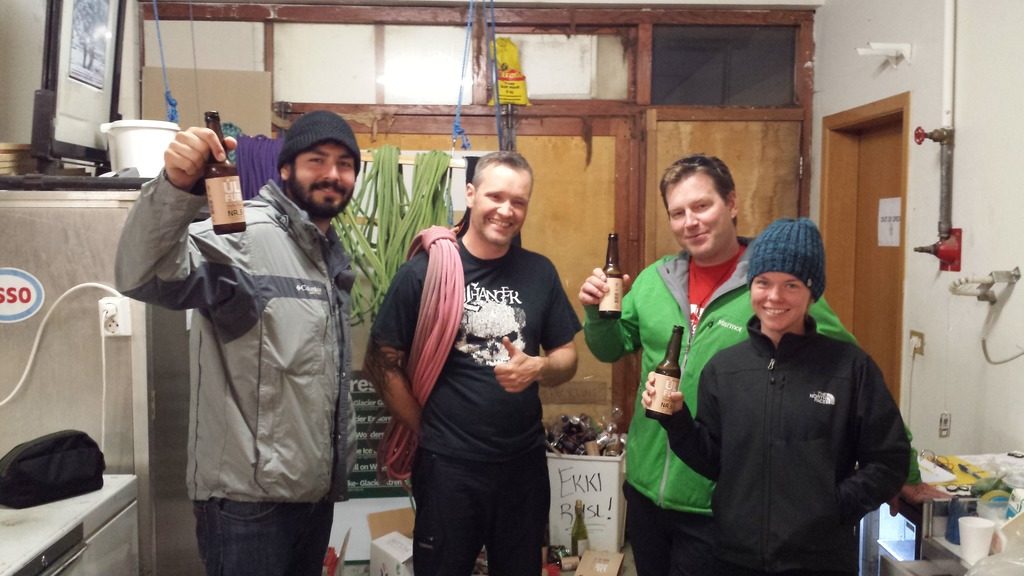 They gave us crampons to wear with our boots, which you can also rent. The particular glacier we were on, Vatnajökull, was next to the one they use to film the wall on Game of Thrones.
The glacier climb was awesome, but my favorite memory was hanging out in the lodge, cracking up as Hörður did an amazing impression of tourists stumbling on the glacier.
The guys don't work as guides anymore, and I still occasionally catch up with Hörður. We laugh about those days, with me regretting that I didn't drop everything right there on that glacier and beg to work for the company.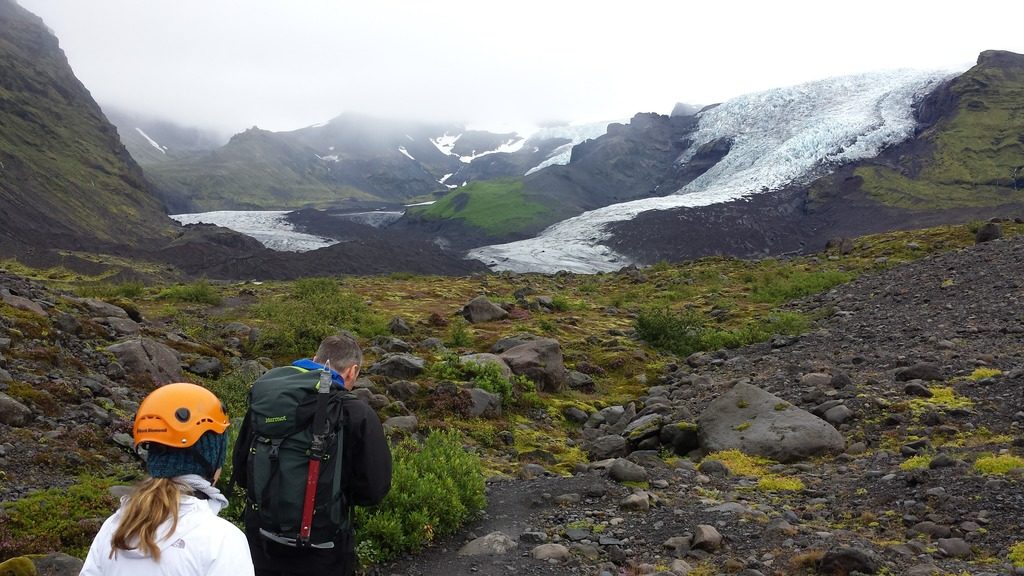 My tattoo is clean and simple, with the coordinates to that small town, Egilsstaðir, scribbled beneath.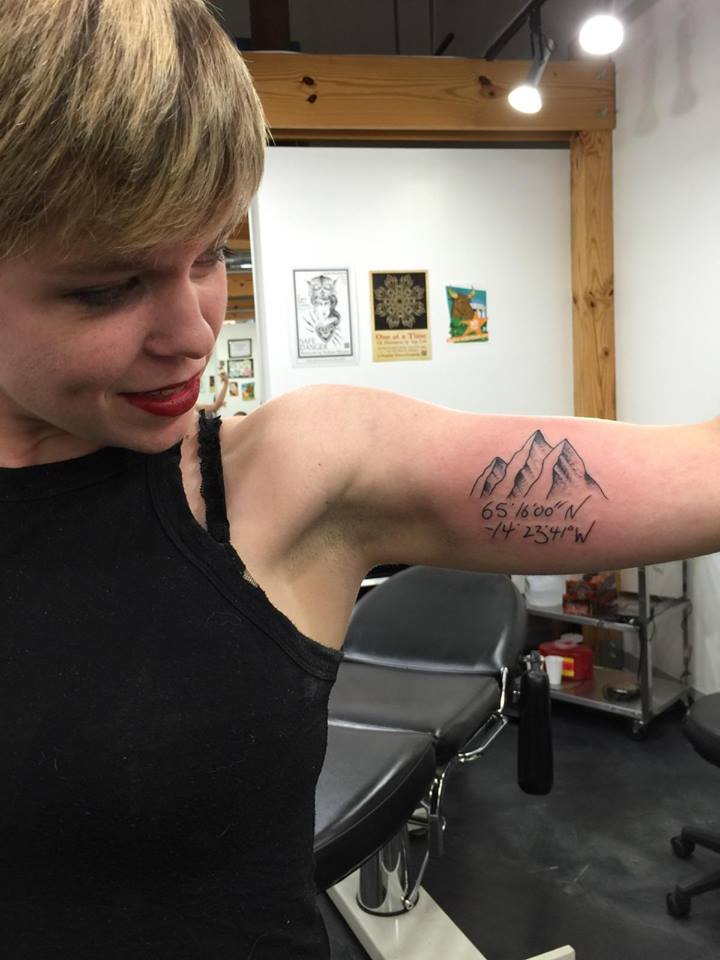 Trendy yes, but also a reminder that some of the most wonderful experiences can come from the most unfortunate, and seemingly bleak, situations.
And maybe a bomb tattoo.