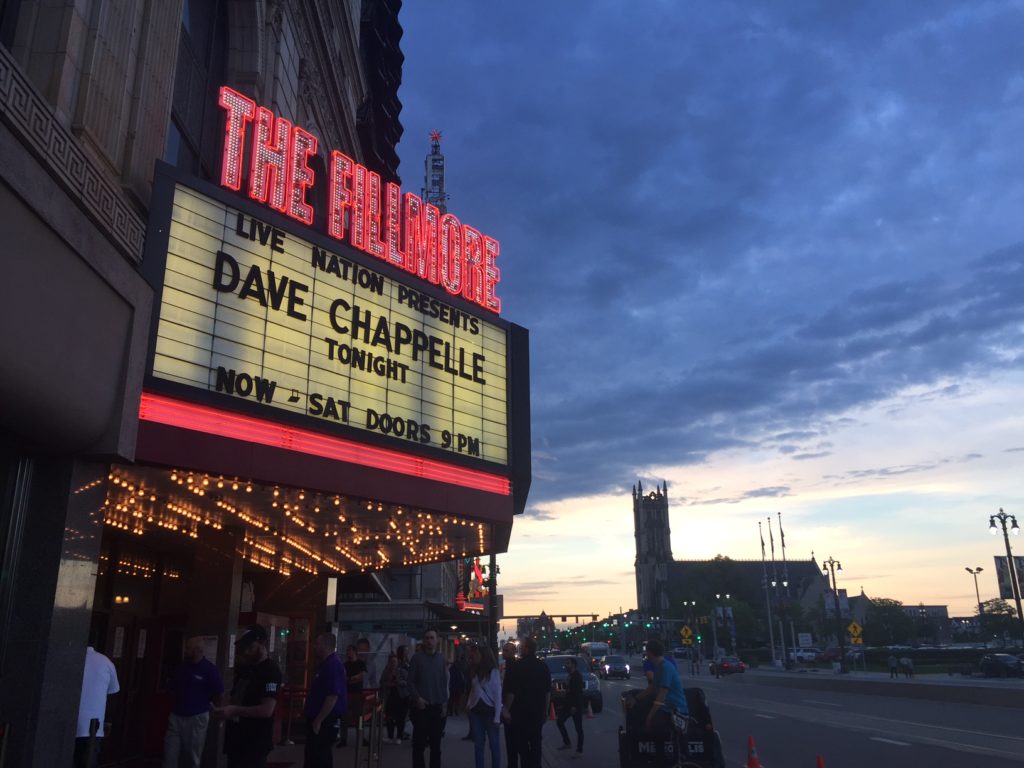 I love Dave Chappelle. I've loved Dave Chappelle since The Chappelle Show.
I was young and uninformed when The Chappelle Show was in full swing, so admittedly, some of his more controversial material was lost on me. I read about his breakdown, his departure from the comedy world, and of course, the story about when he bombed at The Fillmore in Detroit.
When I saw he was coming back to Detroit, I jumped on it. Sandra (my friend I met in  Iceland), had just moved there so it was the perfect opportunity. In the years of Dave's absence, I had gotten older, wiser, and binged all of the material I found online.
I was also really eager to see what he was going to say about Trump.
I'm not shy about my feelings towards our President, and my views are basically what you'd find scrolling through any Democrat's Twitter Feed. Our country is in a dark place right now, and thanks to comedians and writers, specifically Trevor Noah, The Saturday Night Live cast, and John Oliver, this administration has yes, been a fucking disaster, but the jokes and gibes from our nation's finest comedic minds has made it go down a little smoother.
A spoon full of sugar makes the shitty, vile toxic waste go down.
So after watching Chappelle's Netflix special, I was ecstatic to see him live.
He did not disappoint.
We weren't allowed cameras or cell phones in during the show, but let me paint a picture. Chappelle was in full force, jumping around the stage in response to his jokes. In his more serious sets, he simply sat on a stool, taking long drags of his cigarette, and with a pained expression, talking about how he voted for Hillary Clinton, although he really, really didn't want to.
During the show, the theater made it known that if you heckled Dave, you'd be thrown out. That didn't stop the drunk people, with one girl screaming out something about Chappelle being a M-Fcker, to which he replied:
"I didn't hear what you said…." ::inhales cigarette::
"But I could feel your negative energy from here."
::dramatic pause::
"SHUT UP, BITCH."
To which, the audience exploded in laughter.
Chappelle is offensive, yes. I couldn't repeat any of the jokes he said without sounding hateful. He prefaces nearly story or setup about race or religion with a "this is a joke" disclaimer. I'm not sure how I feel about it. A part of me wants him to just go for it, but the other part recognizes that Chappelle, while quick to offend, is very very aware of the impact of his words.
The energy he brings to the stage is electric. Not too far from what you've seen on Netflix, but seeing Dave in person is an out of body experience. I cried, nearly pissing myself multiple times.
How's that for a recommendation?