I don't know if you know this, but after you're single for awhile, there are inevitable milestones.
The first time you decide to stay in and watch Netflix instead of going out? Check.
Deciding to dye your hair a crazy Crayola color? Check.
Then there's the big one. The one action that every single girl should take, even if she's uneasy about it. I've talked other single friends about it, and the answers vary from:
"I would be so nervous."
to
"I'm really not that kind of girl."
I'm fairly adventurous, so I'm honestly surprised at how long it took me. A lot of girls go back and forth, as there's obvious concerns and considerations. But last weekend, after months of consideration, I accepted my fate as "that kind of girl".
I did it.
I booked solo international travel. And for the second time in my life, I chose Reykjavik as my destination. With Paris as a secondary stop.
The rest of the weekend was spent daydreaming about dried fish, thick accents, and planning glacier/hot spring related excursions.
GOD I LOVE ICELAND.
Seriously, though.
Iceland ranks in my top five of most loved things, right after my cabbage patch doll Fire Addams (I named him when I was three, no regrets). It's always symbolized potential. I'm confident my love for this cold island will always be something that defines me.
But enough with the mush and on with the adventure.
So far, I've planned a few incredibly exciting things:
#1. New Years Eve in Reykjavik
I booked New Years in Reykjavik just because, but apparently it's a thing. They've got all of these really cool traditions that vary from epic bonfires to setting off 500 tons of fireworks. I mean, damn, read for yo'self:
So, I will be joining local Icelanders in a lot of fire related traditions. Which is pretty fucking cool.
#2. The Blue Lagoon
The Blue Lagoon is a huge tourist attraction… that I didn't go to last time I was there. Which is great, actually, because I can revisit all of my favorite Reykjavik spots while checking out new stuff.
But probably just sitting in the Blue Lagoon with some kind of fancy face cream slathered all over my face. I will go big.
#3. Staying at The Best Fucking Hostels
Reykjavik has the best hostels by far. Kex, Backpackers, Hlemmur… this place is incredibly social and clean, with very aesthetically pleasing accommodations. I would post which one I'm staying at, but I don't want the internet to stalk me.
Just believe me, they're all good.
I practically lived at the Backpackers in Akureyri (pretty sure I ate about five of their burgers over the course of 2-3 days), and between Hlemmur and Kex, I really didn't want to try any other hostel in the city. Except when I was exceptionally poor and did not have a choice.
#4. Um, duh. Montmarte.
When I arrive in Paris, I will go right to Montmarte. I will spend a weekend cuddled up in some awesome Airbnb. I will eat bon bons and macarons. I will rename myself Marguerite, I will pretend I'm French.
(Also, a picture of the Le Consulat restaurant has been on my desk for months, so I will obviously also be going there.)
#5. Um, duh. Marion.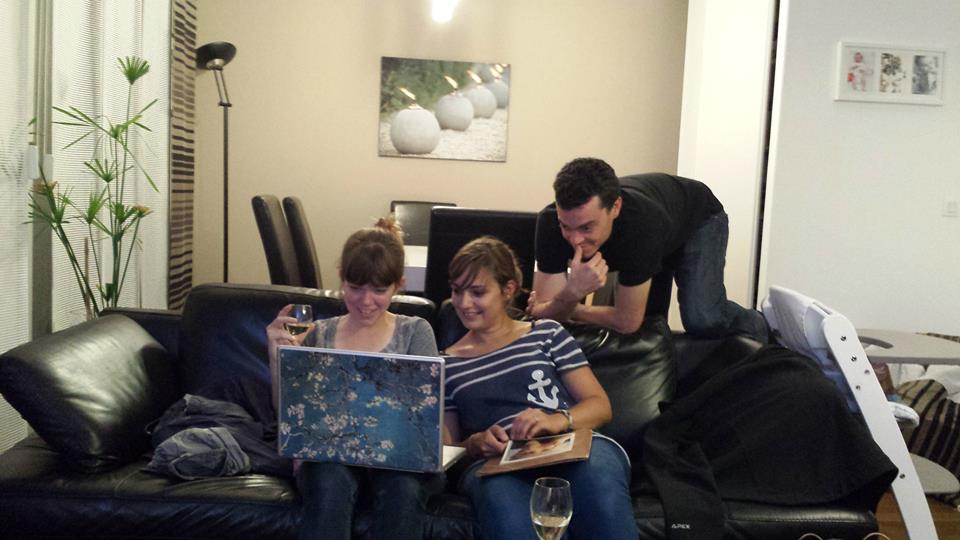 I am SO excited to see my French sister. Marion and I will smoke cigarettes (sorry, Joan), wear red lipstick, and drink incredibly too much red wine. We will talk about boys, eat incredible French food, and she will very likely bring me somewhere inspiring and wonderful.
(I will also drink wine with Laurent and read to her two adorable children.)
I'm still making plans, which will probably also contain a substantial amount of time on a glacier, another random European city, and at least a night or two with my best friend (also named) Melissa in London.
Although a lot of my excitement for this adventure comes from just the enthusiasm for travel, a lot of it has to do with being surrounded by a substantial amount of things I love, in a short amount of time.
Those people, those places. Pure joy.