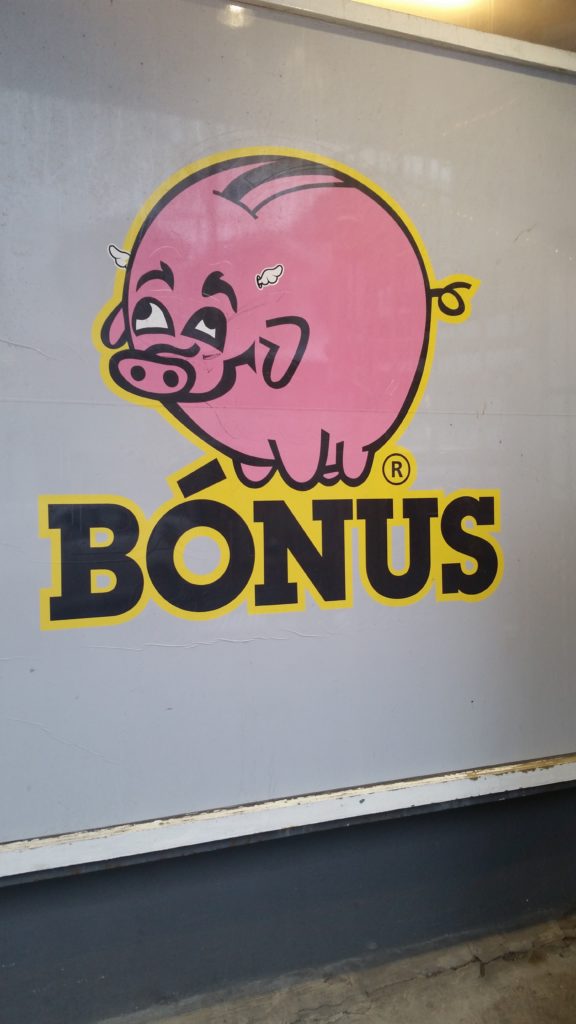 Shortly after one arrives in Iceland, one realizes a simple truth: food is really f$%#ing expensive.
Enter, the hero: Bónus.
Or as I call it, Bónus Pig.
Bónus is a grocery store chain throughout Iceland, with a location right in downtown Reykjavik. It has all of the fixings of a regular grocery store, but like anywhere else in the world, a lot of local basics and oddities.
Some people familiarize themselves with an unfamiliar place by going straight to a local bar, or striking up a conversation with a local. Well, I get to know a new place by going to the grocery store. Bónus is one of my favorites, and on my poorest excursions, my savior (aside from the selection of unopened or barely used items people leave behind at hostels).
I add the "pig" because of the kooky, cross-eyed piggy bank mascot. I'd recommend it over the 1011 stores. It'll be cheaper, like a Kroger or Wegmans over a CVS or Walgreens in food price.
You can get American stuff there if you're feeling homesick, such as Doritos (Cool Ranch is called Cool American there) and Cheerios. But you can really jump into trying a bunch of quirky Icelandic stuff, such as their super thick bread, the dried fish I've mentioned before on the blog, and Skyr yogurt.
GO NUTS YOU'RE ON VACATION.
Literally, they have nuts, too.