"All your life, you've never seen
Woman, taken by the wind…"
 I half sing, half mumble along to the song. I pull on my rounded, large black sunglasses, then glance in the rearview mirror. A pale, bright-eyed girl smiles back. She adjusts her flat, black felt hat, then laughs.
"I'm going through a bit of a Stevie Nicks phase," I had said the day before to my roommate Claire, in a sing-song voice, running my fingertip along the brim.
"Can you please go through it faster?" she had replied bluntly, staring at the hat with disdain.
Now, driving down I-40, I grin. I roll down the windows slightly, not to disturb the array of magazines and papers piled up in my backseat.
I'm still in the process of closing on my house, a process that has only taken a few months but feels much longer. When explaining very recently to a date that I was moving, I had realized that I couldn't quite identify how long I had been moving. Due to all my travel and transitioning, I haven't felt home in a really long time.
On this particular excursion, I'm headed to Raleigh, which was actually once where I called home. The last minute trip is one of necessity, as the life-drawing modeling gig I applied for weeks before finally came through. My inner Driftyland Missy was delighted by the Tuesday night adventure.
"Stay with someone," she suggests, whispering in my ear. "Wait—no, get a hotel. GET A HOTEL."
"SPEND TOO MUCH ON A HOTEL DOWNTOWN," she whines throughout the work day.
"Happy?" I imagine myself snapping as I click confirm on the Hotels.com listing.
The miniature, imaginary me grins, nods, and cozily curls up on the Q on my keyboard. Claire agrees to watch Morrie, my co-workers wish me safe travels, and I'm gone.
Maybe it's the frequent back-and-forth between places, but I've been feeling particularly romantic as of late. It's resulted in a lot of late solo dinners at dive bars and coffee shops, where I sit for way too long, my nose buried in a novel.
Often, whatever soup-based meal I'm eating splashes in the broth, flicking little beads of moisture onto the pages of a Flannery O'Connor book.
I've really always liked to eat alone, with the intent of meeting people. Being a bit shy, but also adventurous, I'm drawn to situations that throw me out of my element. Whenever there's a chance to dine alone in a crowd, I immediately jump on board.
Which brings me to my experience at Plates Neighborhood Kitchen on South Glenwood in Raleigh, NC.
I signed up for a special five-course dinner at the restaurant a few weeks before, thanks to a promoted Facebook event. I hoard upcoming Facebook events like they're going out of style, but this one nearly guaranteed my attendance because they were serving Argentinian food and regional wines.
So two Sundays ago, I drove the two hours to Raleigh. After spending the day at an Ansel Adams exhibit at the art museum, and enjoying a pre-dinner appetizer (pizza), I found myself seated at the Plates bar. Justin, the bar manager, cheerfully greeted me.
"Melissa!" He said, grinning. "Nice to put a face to the name. Justin."
We shake hands, and he brings me a ginger soda. I chew on the straw, examining my surroundings. It's not easy to put together events like these, though our current cultural climate so desperately needs them. It's difficult to connect with people offline, all of my extremely awkward Tinder dates are proof of that.
However, if any of us want to make a real, face-to-face connection, Facebook events for curated community dinners are kind-of what we need.
The restaurant filled quickly, and it's not too long until we kick off the dinner. I'm introduced to McKinley, the event photographer, as well as a few other members of the restaurant staff.
The first course is a Guiso de Lentejas, or a stew of green lentils, onion, garlic, cumin, and oregano. Paired with a chilled 2016 Pinot Grigio from Mendoza, the soup is light, but really filling. McKinley and I slurp, and nod, in approval.
The second course is one of my favorites of the evening. Delicate, refreshing heart of palm, with avocado, tomato, and seasoned with cilantro, lime, and olive oil. I practically inhale mine.
"I love heart of palm," I say to the dark-haired stranger seated next to me. He agrees. The Blanc de Blanc it's served with is bubbly and delightful, a sensation that results in me ordering three bottles later that evening.
Up next are the empanadas. McKinley and I are excited, chattering with the bartender, Jeremy about how amazing empanadas are. These are traditional Argentinian pastries, with beef, hard boiled egg, green olive, and cumin.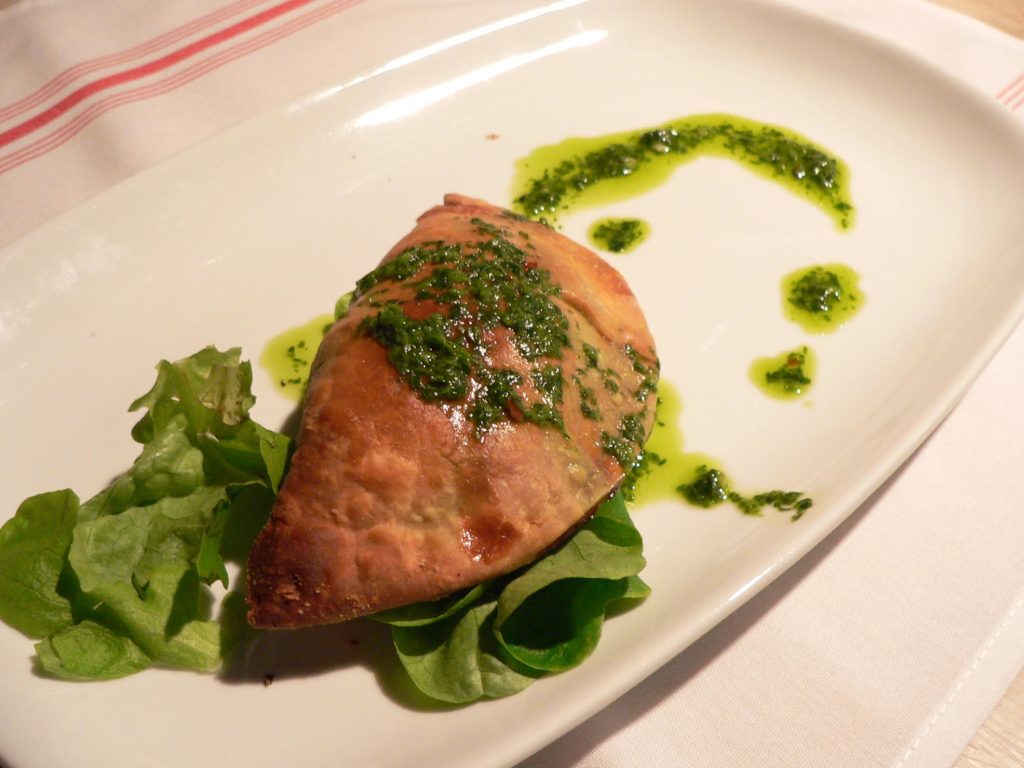 I take tiny bites, along with sips of my Familia Zuccardi Cabernet. At some point, David Koebley of Wine Sellers pops over, and we start to discuss the rich body of the wine.
"I'd drink this entire glass," I grin, "But I have to drive home tonight."
"Where are you from?" He asks, leaning in because of the noise.
"Wilmington," I reply, taking another sip.
His eyes grow wider.
"I live in Wilmington, too!" He laughs.
We talk about how we both love Indochine, a Wilmington staple, and McKinley chimes in about a mutual friend we realize we have. Saying cliché things like, "What a small world," we dive into the fourth course, bacon wrapped lamb, and David goes back to introducing the crowd to the various wines.
The one matched with the lamb is a 2015 Malbec, which I'm the most disappointed in, not drinking more of. The meat is tender, and slices like butter with a dullish knife. McKinley and I, as well as the other bar guests, are silent as we eat and drink.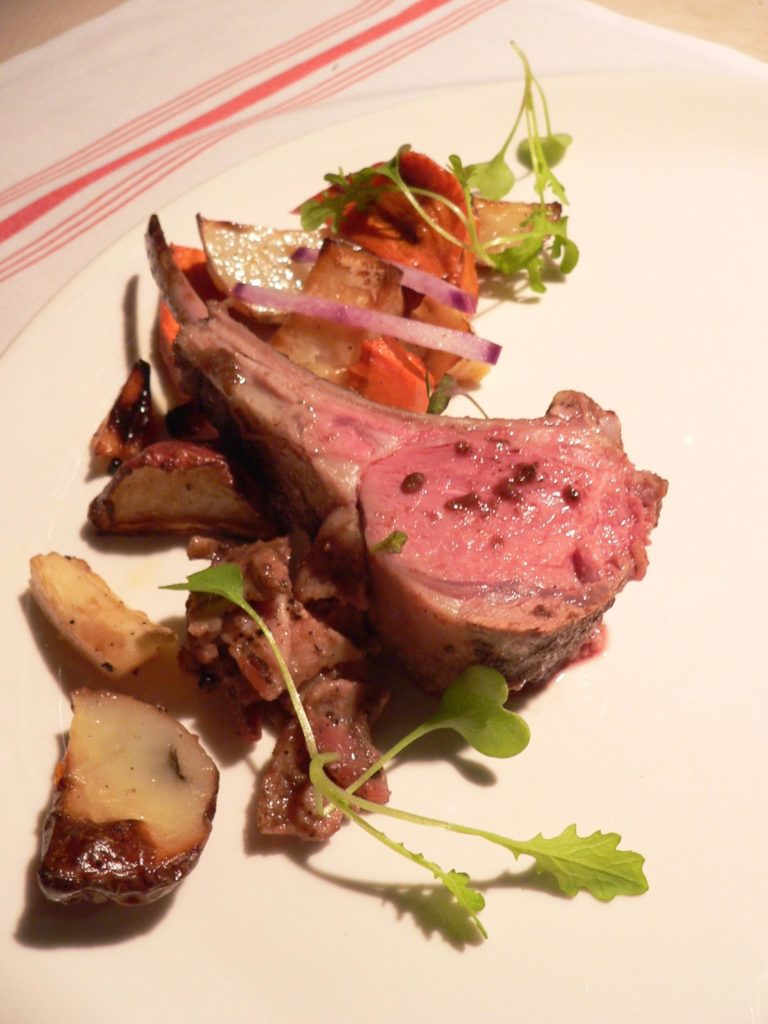 I'm letting the meat sit in my mouth a little, as I drink the Malbec, thinking about what the evening turned out to be. I'm barely finished with my lamb when the final course, dessert, comes out, as well as the next wine pairing.
The Chocotora is rich, and cheesecake-like in flavor. Dulce de leche cream cheese, the menu reads, with milk soaked chocolate cookies. The Port-Style Malbec, while not technically a port, as it's not from Portugal is syrupy and rich. I'm about to dip into a chocolate induced nap when Justin re-emerges, with a cup of coffee.
"Thank you," I sigh, relieved. "This I'll drink as much as I want to."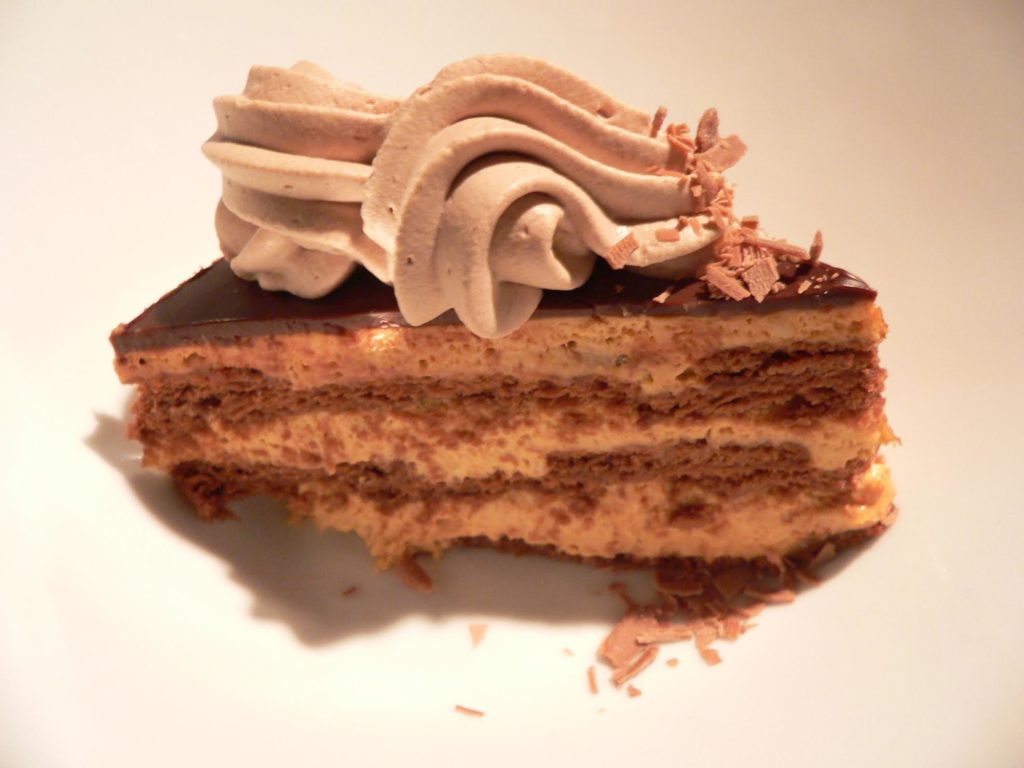 I take a swig of it, continuing to nibble on the last bits of cream cheese. Looking around at the diners, who range from college students to couples about my parents age, I think about who I would have brought with me.
Then realize that I never considered bringing anyone.
The kitchen staff emerge from the back, and we all applaud, congratulating the chef for a job well done. He comes up to me, and we briefly embrace, with me praising him on his decadent dessert.
"If you ever have an Italian night," I tease. "I'll be back."
He smiles playfully.
"Deal!"
I remind McKinley to keep me posted on her upcoming trip to Ghana, then say goodbye to the owner Steve, who thanks me again for coming.
"Next time you're here," he promises. "You'll drink an actual full glass of wine."
We laugh and hug, with me trying not to plague him with my coffee breath. I walk out into the brisk, Raleigh air, carefully finding my way to my car in the darkness. The warmth of the restaurant and smell of olive oil, paprika, and oregano start to fade as I plug my keys into the ignition.
Before I can start driving, my phone buzzes.
"How was your dinner?" asks a friend, questioning whether or not I was okay being alone.
"Yeah," I reply, a little smile on my face.
"I was great."
Plates Neighborhood Kitchen is located on South Glenwood in Raleigh. Watch their Facebook page for upcoming community dinners such as this one. While the restaurant was generous enough to give me a slight discount, I paid full-price for my wine, as well as everything it took to get there.  
Photos by McKinley Thompson.