"I think this one is a pterodactyl," I say, crinkling my nose.
Dented corners, wrinkled wings. I examine it closely for a minute, before unfolding it again, determined to fix it.
I visited Terra Sol Sanctuary today, a yoga studio that for today, to help make 1,000 paper cranes. The project? Create the cranes. The plan?
Find a local business to hang the colorful, silent birds, to represent the need for empathy and diversity.
Kim Beller, who is spearheading the crane project, is by my side. She laughs, and then walks me through the folding process again. This time, I record her for reference (video below).
"Triangle, triangle…" she says, expertly folding her orange sheet.
"Rectangle, rectangle…" I murmur to myself, fixated on the creases.
Folding cranes takes practice, and making 1,000 takes a lot of hands. Today, it's nearly 70 degrees in downtown Wilmington. Vibrant and bright.
(I made a tutorial on folding cranes. Check it out here.)
I'm one of the only ones in the studio.
Once I get the swing of it, Kim disappears, and I'm joined by Michael, who asks me to bring his grey crane (which resembles more of a griffin), back to life.
"Challenge accepted," I smile, refolding the bird up again.
"Your cranes are really delicate," he comments. To which, I laugh, thinking of my deflated cranes hanging out at the bottom at the bottom of the pile.
"It definitely takes practice," I reply.
I've been in an on/off relationship with yoga for a majority of my 20s, preferring my personal training sessions at Gold's for now. But the studio at Terra Sol is beautiful, sun-soaked. I think about what it would be like to stretch out there, gazing up at the dramatic, lofted ceiling while in a back bend.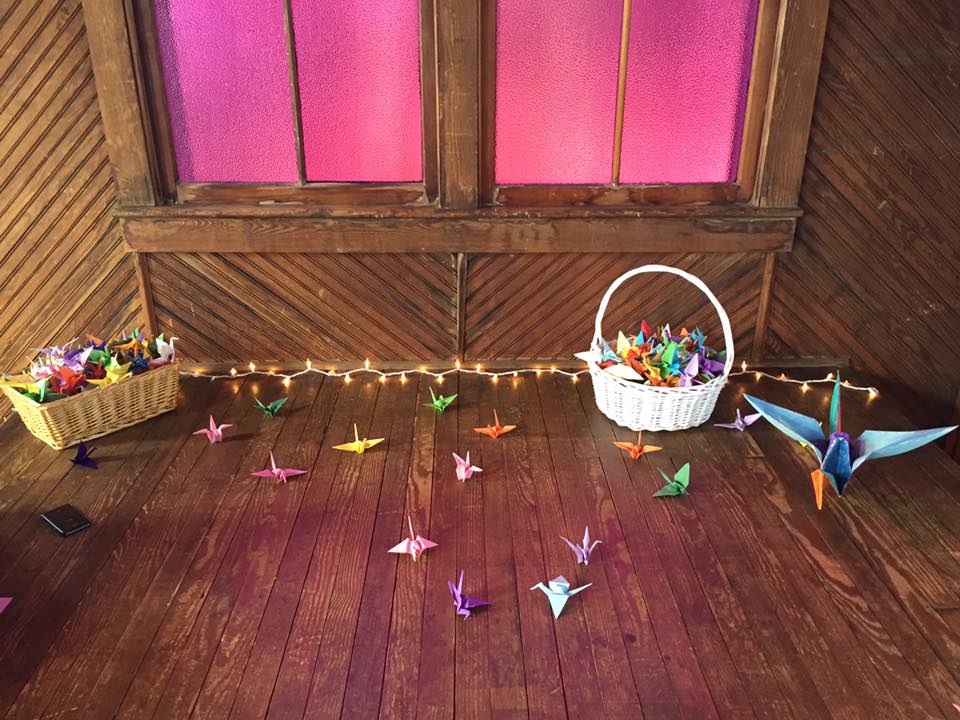 The dark hardwood floors are bare, with a few littered cranes here and there. When I first spoke to Kim about attending the crane folding, she actually invited me to a donation yoga class the morning of, supporting The Plastic Ocean Project. I didn't attend (echo the love/hate relationship with yoga), but I'm glad I'm there now.
If only to learn the difference between pterodactyls and cranes.
The cranes are still being folded, and we're still seeking a home for the 1,000 little guys. If you know a local business that could benefit from the symbolism of the peace cranes, please contact me at driftyland [at] gmail [dot] com, and I'll hook you up with Kim and the Terra Sol team.